Contact Us
We will collect some information from you and send for a referral form to be completed by your Vet. This hassle free service makes it quick and easy to book your dog in for treatment. Once your Vet has returned a completed form, we will contact you and book you in for your initial assessment.
If you believe your dog is in need of Hydrotherapy, or your vet has recommended treatment, first thing you need to do is contact us.
You can contact us in the following ways:
Call: 01635 521915
Email: info@ActNow-Newbury.co.uk
Or you can arrange for the appropriate referral form to be completed and returned to us.
Veterinary Referral Form - Hydrotherapy, Physiotherapy & Stem Cell Vet
Appointments
Opening Hours:
Day
Treament
First Session
Last Session
Monday
Hydrotherapy
Home Physiotherapy Appointments

10:00
10:00

19:00
19:00

Tuesday
Hydrotherapy
10:00
19:00
Wednesday
Hydrotherapy
Home Physiotherapy Appointments
10:00
17:00
19:00
19:00
Thursday
Hydrotherapy
Home Physiotherapy Appointments
10:00
09:00

19:00
17:00
Friday
Home Physiotherapy Appointments
9:00

17:00
Find us:
Aquatic Canine Therapy
Unit 18 Orchard Business Park
Newbury Road
Kingsclere
RG20 4SY
If you believe your dog is in need of Hydrotherapy, or your Vet has recommended treatment, first thing you need to do is call us on 01635 521915 or send us an email at info@ActNow-Newbury.co.uk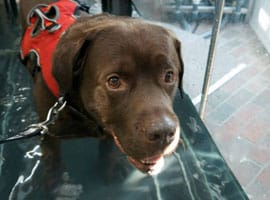 Facilities