Canine Hydrotherapy
Aquatic treadmill hydrotherapy is the perfect way to exercise muscles as it quickly builds muscle through the resistance of the water but has the benefit of partial weight bearing on the joints due to the buoyancy provided by the water. As the dogs' body is supported by the water the normal stresses placed on bones, tendons and joints is greatly reduced therefore preventing further damage occurring to the already damaged or weakened area.
If you believe your dog is in need of Hydrotherapy, or your Vet has recommended treatment, first thing you need to do is call us on 01635 521915 or send us an email at info@ActNow-Newbury.co.uk
Facilities
Aquatic Treadmill
The Aquatic treadmill has dual entry/exit doors with access ramps and an all round glass for optimum viewing. This allows the hydrotherapist to view a patient during therapy and allows us to easily control and monitor the rehabilitation process. The water level can be increased and decreased which is useful for making the transition from water to land by gradually increasing the load on the affected joint. The speed of the treadmill can be increased and decreased to replicate the normal gait.
Showering
To ensure any excess hair and dust/dirt is removed before introducing to the treadmill, we shower the dog but this also helps to warm up and stimulate the muscles groups that are about to be exercised in the session.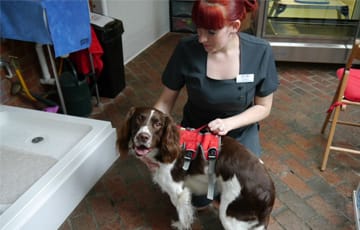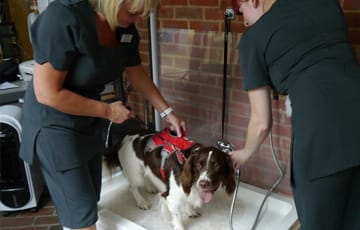 Post session the dog is again showered to remove any chemicals from the coat. Should you wish for your dog to be shampooed at this point it is possible to pay extra for this service.
Drying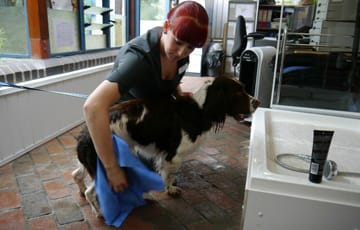 To ensure your dog is warm, dry and comfortable at the end of the hydrotherapy session they will be towelled and blow dried (dependant on the dogs temperament and condition). This is particularly beneficial for older and arthritic dogs. We provide all towels however, in the colder months to ensure your dog remains warm in the car journey home, we recommend you bring a towel or a coat for your dog.
HeyrexVet
ACT Now are the first in the Berkshire area to own the Heyrex device. This fantastic devices allows us to manage your pets activity and behaviour post surgery. Heyrex establishes what's normal for your dog and tracks any changes with an alert to ourselves and optionally to the owner. This device allows you to track their sleep pattern and alerts any abnormal activities or disturbances which can be an indicator of pain. When treating an over weight dog, we can set up a weight loss plan with set exercises to allow us to work as a team to get the best weight loss results. With a mobile app available, you can access the data straight away on your phone so you can track what your dog is up to when you're at work!
For more information please follow the link www.heyrex.com/en
FAQ's
"How can I book as session?"
Call us on 01635 521915 to book during opening hours, or visit our Contact page to complete an enquiry form and we'll get back to you as soon as possible.
"What do I need to bring?"
Just bring yourself and your dog! Here at ACT Now we have a shower to wash your dog, shampoo if required, towels and a blaster to dry your dog after the session. We even have tennis balls and treats if we need to make their time with us more enjoyable.
"What do I do when I park at Falkland Vets?"
Make sure your dog is securely on it's lead and follow the signs making your way to the Vets reception area. When you're there, press the ACT Now! Doorbell located on the reception desk near the door and then take a seat in reception and we will come to greet you at reception as soon as we are free.
"How soon before my dog is back to their old self?"
Recovery time can alter depending on each individual dog. A younger dog is more likely to recover quicker than an elderly dog. However, certain conditions can cause a longer recovery time than others. i.e. a major operation such as Tibial Plateau Levelling Osteotomy (TPLO) can take several months longer to recover than Soft Tissue Injury. Usually, you'll notice a difference in your dog after several sessions, be it an improvement in their gait, or feeling happier in themselves.
"What will happen if I'm running late or miss my apointment?"
Up to 15 minutes late - We can still go ahead with the planned session, however it will be cut short if necessary to prevent running late with client's afterwards.
Over 15 minutes late - Depending on the diary we have that day, we may be able to go ahead with the session, however if there are more dogs booked in, unfortunately we will not be able to carry out the session and you will be charged for the missed appointment.
Missed Appointments - If you fail to inform us that you cannot make the session, full session charges will be made, or a session taken off your block booking.
Cancellations - No charges will be made for legitimate cancellations, so long as we are informed with a minimum of 24 hours notice.
"My dog is very heavy and can't walk on it's own, can anyone help me?"
When we've spoken over the phone, let us know that you will need help getting your dog in and out of the car. When you park at Falkland Vets, if you make your way to reception leaving your dog in the car briefly and press the ACT Now! Doorbell located on the reception desk near the door and we'll be straight out to help!
"How come you charge more than other places I've seen?"
There are a lot of Hydrotherapy places around the country, however not all of these places are signed up to the Canine Hydrotherapy Association (CHA). This was set up to help try and regulate the businesses, by setting industry standards. For example, Hydrotherapist are to be qualified to a high standard, be first aid trained and have studied water management to ensure there are no risks to your animal. Insurers will only pay out to practices that are CHA registered, or operating within a Vets. These places may charge less, however the people in charge may not necessarily know entirely what they're doing and could cause more harm to your dog.
"The Vets say I cannot walk my dog for more than 10 minutes, will your sessions affect my dog in any way?"
On the day of your dog's hydrotherapy sessions, we advise that you treat their time in the treadmill as replacement for their walk that day. If your dog walks more than 10 minutes on the treadmill don't worry! Walking on land is completely different to walking in our aquatic treadmill. This is due to the buoyancy of the water supporting them throughout their session, the warmth and hydrostatic pressure of the water reduces any inflammation and causes decrease in pain. On land they don't get the benefits of the water, therefore more pressure is forced onto the joints and more damage can be caused.
Terms & Conditions



1 Legal



Whilst all reasonable precautions are taken, dogs swim entirely at their owners own risk.
Evidence of Insurance will be required where ACT Now are claiming direct. Should the insurance company reject payment then the owner is liable and must pay in full within 30 days. Due to being a small business, we may not always be able to afford to put payments on account.
Dogs will not be treated without a completed Veterinary Referral form.
ACT NOW reserve the right to use photographic still and/or video footage taken during the dogs sessions and associated activities for monitoring purposes and for social media advertising and marketing. At no time will clients personal data be used unless permission has been given.
For missed appointments or appointments cancelled without prior 24 hours notice, owner will be charged £40 for session cost.
ACT NOW reserve the right to refuse treatment.
An updated referral will be requested from your Veterinary Surgeon at 6 monthly intervals. Meanwhile, please ensure you inform us immediately of any changes in medication or your dogs condition.



2 Health & Saftey



Bitches in season may not attend their sessions.
Dogs with infectious conditions (such as ear, eye and skin infections), open/weeping sores or wounds may not attend their sessions.
Dogs must not have flea/tick treatment 48 hours prior to their session.
Owners are required to notify ACT NOW if during a course of treatment the dogs condition worsens or the Veterinary Surgeon has advised that the course of hydrotherapy is to be changed, suspended or stopped.
All owners are advised to wear non slip footwear and to take extreme care in the centre. High heels should not be worn for health and safety purposes.



3 Pre Session



Owners are requested not to feed their dog for THREE hours prior to treatment.
Dogs should be as clean as reasonably possible. If excessive mud is present an additional charge will be made.
Try to ensure the dog has been to the toilet (moved his/her bowels) prior their session. If there is an incident where the dog has toileted in the treadmill, a session cost will be charged to cover the costs of cancelling bookings to ensure the equipment has been thoroughly cleaned.
Owners are requested to groom their dog prior to the session to remove any excess hair.



4 During Session



It is the owners responsibility to collect any waste matter produced by their dog either in the hydrotherapy centre or associated grounds.
Owners are advised to wear appropriate clothing whilst accompanying your dog throughout their session.

Dogs + water = wet!

ACT NOW shall not be held responsible for any loss or damage to personal belongings or property of visitors to the centre.



5 Post Session



Owners are requested not to feed their dog for ONE hour after treatment ends.
Please keep your dog as warm as possible immediately after session ends until they are dry during the colder seasons.
If you believe your dog is in need of Hydrotherapy, or your Vet has recommended treatment, first thing you need to do is call us on 01635 521915 or send us an email at info@ActNow-Newbury.co.uk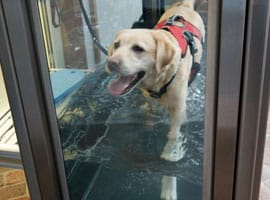 Facilities